African Music Institute on track to improve music education in Africa
Published in Music in Africa, the 16th of April 2018
The lack of facilities and access to education in Africa are some of the main stumbling blocks in the continent-wide task to professionalise talented individuals in the music sector. Whether it's the absence of knowledgeable teachers to impart essential skills on students, outdated technology or a shortfall in musical instruments, the issues are many and almost impossible to solve without major investment.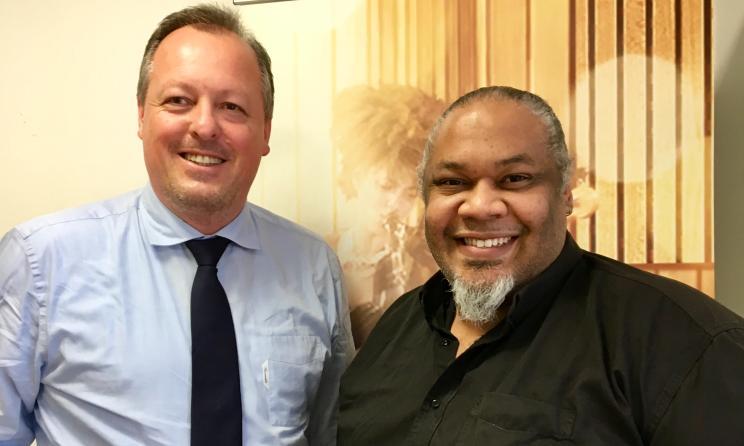 AMI general director Nicolas Boudeville and the university's rector Michael Sean Harris.
There is also the matter of students spending years at universities and entering the industry with little knowledge about the realities awaiting them in the field. This, of course, is a problem seen with many professions taught at big varsities where redundant theory is preferred over practical knowledge. The answer to such teaching tendencies has come with the emergence of integrated learning methods at smaller, usually private, educational facilities.
The brand new African Music Institute (AMI) in Gabon's capital Libreville is trying to break the habit of antiquated music education by offering ultra-modern syllabuses and production facilities for bachelor's and masters students. The AMI partnered with the world-famous Berklee College of Music, which boasts 280 Grammys awarded to its alumni and campuses in the US and Spain, to design innovative coursework that takes into account Africa-specific musical knowledge and culture to presents a new approach aimed at preparing students to hit the ground running when they enter the professional world.
Music In Africa spoke to AMI general director Nicolas Boudeville as well as rector and Berklee graduate Michael Sean Harris about what the AMI can offer those looking to start a successful career in music.
MUSIC In Africa: How did the idea of creating the African Music Institute come about?
NICOLAS BOUDEVILLE: The project is the result of a meeting between Gabon's desire to develop the pan-African educational and particularly cultural sector and the desire of Berklee College of Music to develop a project on the African continent. That project will make Libreville the 'City of African Culture'.
The African Music Institute aims to improve the quality of musical education, to develop teacher skills and to promote the economic and social development of the region.
The objective is to promote the scientific study of music to foster creativity. The top training for musicians – such as songwriters, performers and instrumentalists – is based on scientific knowledge developed from teaching and research conducted in different musical and dance world traditions and heritages.
Why Gabon?
NICOLAS BOUDEVILLE: Gabon is strongly connected in Africa culturally and in terms of musical traditions. Gabon shares Bantu languages with people living in more than 20 countries in central and southern Africa. These includes Swahili, Xhosa and Zulu, among others. Gabon is a member state of the African Union and the Central African Economic and Monetary Community [CEMAC]. It's on the border and the link between French- and English-speaking countries. If you consider these factors, there are few other countries bin Africa that have better positioning than Gabon.
What is different about the syllabus at AMI compared to other institutions of higher education in Africa.
MICHAEL SEAN HARRIS: The syllabus at AMI is for the most part created in consultation with Berklee College of Music in Boston. This is true for the majority of the bachelor's degree programmes. Masters programmes have been developed to vastly improve the chances of our graduates being employed while still exposing them to talent and real-world situations they will come to experience. Our elective courses are culturally relevant and echo various aspects of the pan-African experience.
What are some of the challenges in music education in Africa?
MICHAEL SEAN HARRIS: What we observe is an inconsistency in exposure and the level of technical ability. The basic desire to excel is there but some applicants a far more advanced than others. We have to find ways of meeting the applicants where they are, in terms of level, and devise methods to improve where necessary while still challenging the more advanced student.
Another challenge is the variety of cultures and languages and being able to communicate that AMI is a pan-African institute open to applicants across the continent – from north to south and beyond.
How will the courses be designed to be more Afrocentric?
MICHAEL SEAN HARRIS: The courses will demonstrate their African grounding through content, faculty and delivery. The true gems for Afrocentric infusion will be through the course electives designed by the faculties specific to the AMI campus and course offerings, and in line with our vision and aims.
Who are the lecturers at AMI?
MICHAEL SEAN HARRIS: The AMI staff will be a combination of Berklee graduates, teachers from Gabon and the continent as well as visiting professors from Berklee College of Music's Boston and Valencia campuses. The very idea of the African Music Institute has sparked a lot of excitement and interest and we have received many requests from world-renowned faculties to participate.
Will guest lecturers be involved in the AMI programmes?
MICHAEL SEAN HARRIS: Guest and visiting lecturers will be a very important aspect to life at AMI. We will have visits from experienced faculty as well as established performers and touring musicians. Visits may be as short as a few days or as long as a yearlong residency.
What kind of skills will AMI give graduates?
MICHAEL SEAN HARRIS: The various skills graduates can expect to leave with include, but are not limited to, performer, musical director, arranger, teacher, sound designer, band member, bandleader, artist manager, booking agent, songwriter, singer-songwriter, producer, beatmaker, sequencer and talent coach.
Who can apply to study at the university?
NICOLAS BOUDEVILLE: For bachelor's programmes, all young, passionate musicians and dancers with a baccalaureate or equivalent, who want to turn their passion into a professional career. Regarding the master of production media and sound, students will need to have a good level of technology in music, graphics and sound. Aspiring students can find all the requirements on the AMI website and contact us if they have any queries.
When is the deadline for applications for this year's intake?
NICOLAS BOUDEVILLE: End of July 2018
Tell the readers about the state-of-the-art facilities at AMI.
NICOLAS BOUDEVILLE: The teaching rooms of AMI were designed by Berklee; the material was also selected by them. The students who will be present at AMI will have the same technical teaching conditions as in Boston or Valencia. On the other hand, besides the university, the campus will be able to produce recordings of international level. The studios are designed by the famous American architect, Francis Manzella. Finally, two auditoriums are available in a 400-seat interior and 600-seat outdoor hall.
Are there any bursary programmes envisioned at AMI for underprivileged but talented students?
NICOLAS BOUDEVILLE: Scholarships are a real challenge for this project. The AMI leaders in connection with Berklee work on two axes – national public scholarships and private scholarships with foundations from different countries who wish to support this pan-African cultural project. The AMI should have some internal scholarships in 2019, and may offer financial support to particularly talented students who could work on some of their studies at the AMI as from this year.
Akon and Davido recently visited Berklee students in Gabon. Are these the same students who will be studying at AMI?
NICOLAS BOUDEVILLE: These artists did us the honor of coming to support the first workshop organised with Berklee. We had more than 100 students from 23 African countries. A large number of these students have submitted applications to join AMI bachelor's or masters programmes.
This post is also available in: French